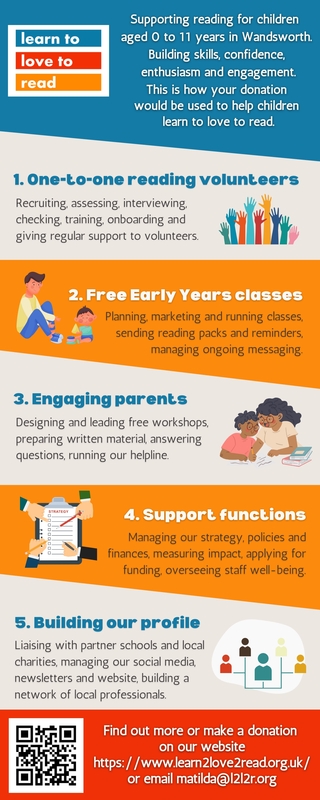 Wednesday 15th March 2023 marks our 9th birthday - on this day in 2014 we announced our idea for a reading support project and called for our first volunteers. Six of us started volunteering in Ronald Ross Primary School at the start of that summer term. We now have over 60 volunteers supporting children across eight Wandsworth primary schools, plus Early Years classes running in schools, children's centres and nurseries across the borough.
To mark our birthday, we are launching our new impact report detailing our work during the academic year 2021 to 2022. You will find both a full-length analysis and a highlights document on our website if you click on the button below. The reports show you how much our work has grown and developed over those nine years, as well as how significantly the need for support has increased as a result of Covid-19.
If you would like to get involved - perhaps as a volunteer or by supporting our work financially - we would love to hear from you! Contact us via our website here: Contact us.