Skip to main content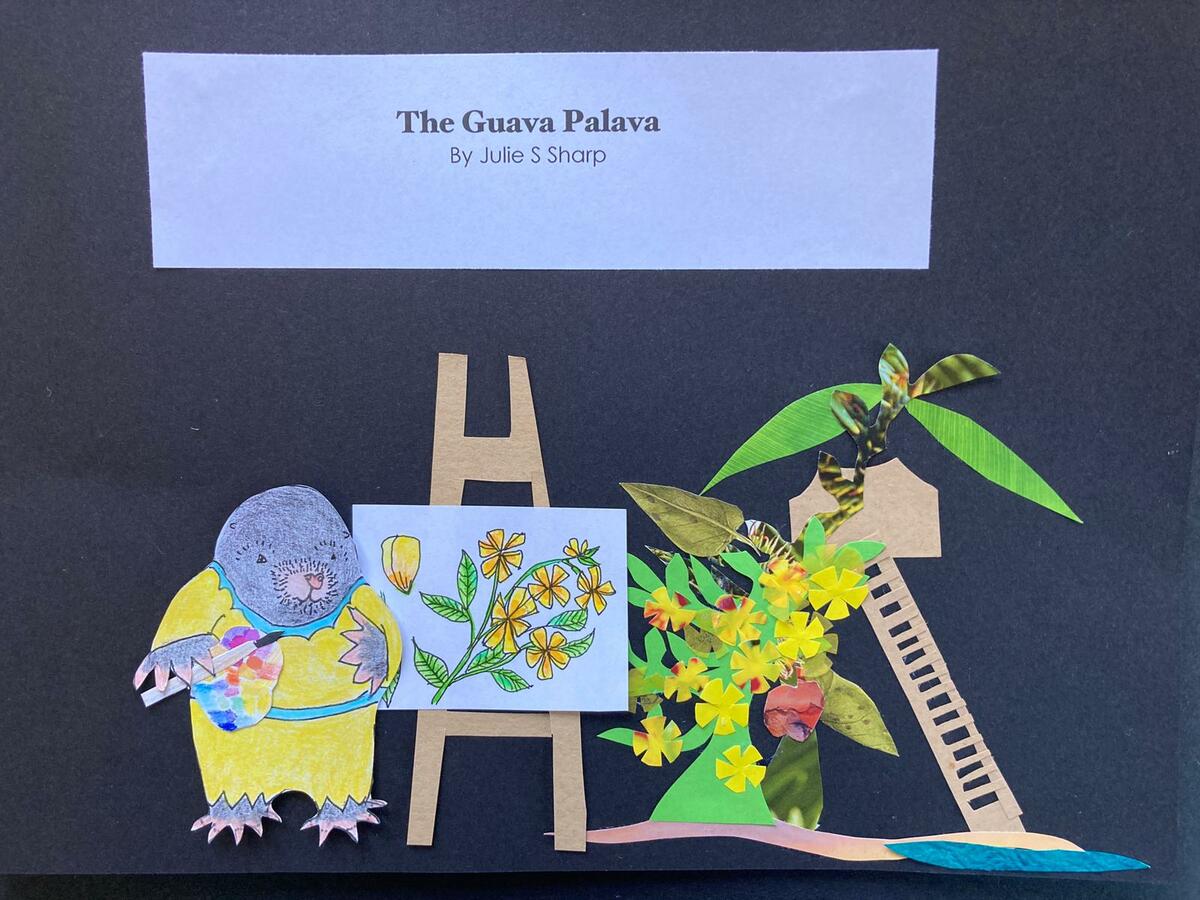 The Guava Palava.
An EASTER SPECIAL Ten Word Tale.
Inspired by ten words chosen by Learn to Love to Read volunteer Caroline and the two children she reads with, Jo and Hania from Southmead Primary School.
The ten words are: the, off, sunset, happily, melon, nick, yum, rock, friends, yells. Perhaps you can spot the words as you read the story?
Chapter 1
Nick and Norma Mole were very excited. In exactly three weeks and two days they would be going on holiday for the first time in years.
Nick and Norma lived by the river in London. They had a tiny house with a gigantic greenhouse. Usually people who have big greenhouses live in even bigger houses, but not Nick and Norma. The old house next door had sold off bits of land, including the land with the greenhouse.
It was perfect for Nick, because Nick's passion was growing fruit. In his greenhouse were orange and lemon trees, papaya and passionfruit, apricots and apples, three kinds of mangos and four kinds of melons. Nick's favourites were his guavas. He grew seven varieties. He had recently won the Great Guava Trophy, beating a gardener from Kew Gardens. Nick encouraged his plants to cover the greenhouse windows. He liked to keep his gardening secrets secret.
Norma was an artist, specialising in painting the flowers of exotic fruits. Most mornings, once Nick had watered everything, Norma could be found with her easel, paints and pencils, painting in the greenhouse or the garden. Their holiday was happening because Norma had been offered a special job, to visit a tropical island where a new variety of guava had been discovered, and to draw the flowers.
Nick was very excited at the news of a new guava, but at first he refused to go. Norma understood that Nick was worried about what would happen to his greenhouse when he was not there. So they made special arrangements. Eventually Nick agreed that if Mick and Melanie, their friends and neighbours, would guard the greenhouse ... and water the plants ... and not touch anything else ... and never allow anyone into the greenhouse except themselves, then he would go.
Chapter 2
Three weeks and two days later, Nick and Norma were on their way to the tropical island. Nick sat in the airport worrying. He sat on the plane worrying. Nick knew that Mick and Melanie would look after the greenhouse while he was away. He trusted his plants to get on with their lives (plants do not need humans really unless they have special requirements) but spikes of worry kept popping into his head as the plane landed.
Norma looked out of the window of the taxi as it drove them deeper and deeper into the rainforest where they would be staying with the scientists. She was wondering about the guava flowers and hoping she could do a good job. But she knew very well that Nick was worried.
"Let's face-time Mick and Melanie while we have a signal," she said. Soon Nick was happily talking to Mick and when he came off the phone he looked much better. He took hold of Norma's hand and smiled at her.
"I think I can promise not to worry the whole time," he said.
"Good," said Norma smiling back.
The taxi pulled up at a group of tents pitched between dense forest and the ocean. Some of the tents were high up in the trees like treehouses. Nick and Norma quickly unpacked and went down wearing hats for extra protection from the bright sun.
Norma was ready to sketch the guava flowers at once while Nick was going on a tour of the local fruit trees. It was going to be a wonderful time.
Chapter 3
That night Nick and Norma went up to bed not long after sunset and fell asleep, feeling very happy. They did not feel happy, however, when they were both woken in the middle of the night by a loud ringing. Nick picked up his phone. It was Mick.
"I know it's the middle of the night but we thought you should know."
"Know what?" asked Nick, anxiously.
"You don't need to worry," continued Mick.
"Worry about what?" yelled Nick.
Mick explained that there had been an attempted break-in at the greenhouse. The alarm had gone off. Mick and Melanie had run into the garden in their pyjamas and chased a stranger who ran away over the garden wall. They had called the police.
"The police thought it might be one of your enemies, spying."
"I don't have enemies."
"Well, your rivals I mean."
Nick knew that now he was winning prizes it could be a bit annoying for others but no one had ever seemed angry at the competitions. When Nick had won the Great Guava Trophy, the gardeners who came second and third congratulated him very kindly, even young Ken from Kew Gardens, who had previously won the Guava Trophy six times in a row.
Nick shook his velvety head to get rid of the idea of someone far away hating him and thanked Mick for chasing the intruder and keeping the greenhouse safe.
"No worries," said Mick. "Enjoy the rest of the holiday. The police will keep a sharp eye on things from now on."
Norma had heard everything. They lay talking about whether Nick might have an enemy after all until the sun began to rise and the howls, twitters, hums and rustles of the wakening forest told them it was time to get up.
Chapter 4
Over breakfast the scientists, who had heard Nick's yells as he talked to Mick, asked what had happened. They were very sympathetic. Some of them had experienced attacks by rivals.
"I remember when someone tried to steal the micro-mandarins I was growing on my balcony," said a girl called Sarah.
"I remember when someone stole my research on growing dragon-fruit in the dark with only one hour of leaf-filtered sunlight every day," said an old professor.
Nick spent the day with the scientists. Sarah was taking samples of rock within a kilometre radius of the new guava trees. The professor was noting the light-and-shade conditions the guavas seemed to prefer. Nick enjoyed learning about the new species while Norma painted them, sheltered by a huge umbrella.
"I wish I'd been a scientist," Nick sighed later over dinner, "but I'm not clever enough."
"You are a scientist!" said Sarah and the professor at once. They said he was the perfect scientist as he spent his whole life observing and growing fruit. Nick went quite pink with pleasure.
Norma laughed as she tucked into the delicious dessert of tropical trifle. "I tell him this all the time. Perhaps he'll believe you, though he never believes me. You're scientists. I'm just his wife."
The scientists insisted Norma was a scientist too, observing and recording flowers. "We sent for you to come from London to do our pictures because you're the best," said the professor.
"The best in the world," said Sarah.
The Moles went to bed early again.
"It's a mystery why they think we're so good," said Nick. "Obviously you are, but ..."
"Obviously you are," said Norma. They fell asleep to the sound of the waves close by and an owl hooting.
They had a wonderful time with the scientists. They were all firm friends by the end of the trip. Nick was given some cuttings and seed samples of the new guava for himself and the responsibility of delivering cuttings and seeds to Kew Gardens when they got back to London.
"Find an expert called Ken," said the professor.
"I've met him," said Nick.
Sarah drove them to the airport.
Chapter 5
Back in London, Nick was overjoyed to see all his plants. He rang Kew to make an appointment and set off with Norma to deliver the seeds and cuttings without delay.
While Nick went to the scientists' offices, Norma waited on a bench. She looked at the trees around her. They weren't tropical but the bright flowers and fruits were still amazing.
A robin sat singing nearby and she could hear a woodpecker. Suddenly she heard another sound, the sad sound of someone crying. Looking round, Norma saw someone in a Kew Gardens uniform sitting under a tree, sobbing.
"Are you OK?" she asked.
"Not really," he replied.
"What's wrong?" Norma's voice was gentle.
"I work here but I'm going to lose my job. I used to be so good at it, guava care, even winning prizes. Then someone else began winning. I felt a failure and eventually I did something really wrong," said the stranger. "I found out the person who kept winning the guava competitions was going away on holiday. I decided to sneak into his greenhouse."
Norma thought she knew where this story was going.
"Were you going to steal his guavas? Or wreck his trees?" she asked.
"I would never harm a guava! I was looking for ideas."
"Stealing ideas is still stealing," said Norma.
"I know," said the stranger. "I nearly got caught and that gave me a shock, a shock I needed. The next day I told my boss my worries about being a failure and he was great. He said not to worry, that winning prizes wasn't everything. But today I've had a call to say the guava man is coming to see me! I panicked and came out here. I'm sure he knows I broke in. I might be arrested!"
"What's the name of this terrible guava man?" asked Norma.
"Nick Mole. He's not terrible really. He's the only person I know who loves guavas as much as me."
"If the guava man is Nick then you must be Ken."
Ken, for it was indeed Ken, was amazed as Norma explained who she was and then even more amazed when she invited him to tea.
"You'll feel better if you talk to Nick," she said. "Not here when you're at work. Tell him later."
Nick could not understand why Ken's eyes filled with tears when he met him and handed him the guava cuttings and greetings from the tropical scientists. Norma signalled with her eyebrows to Nick not to ask too many questions.
"Ken's coming to tea today," she said. "You can chat to him more then."
Norma made several cakes and a fruit salad. She laid everything out in the garden. Mick and Melanie were also invited. They gazed at the cakes and the fruit salad with sunshine-orange mango, strawberries, oranges, bananas and chunks of guava. "Yum," they said.
At that moment Nick came round the corner with Ken. "Hey!!" shouted Melanie and Mick, recognising the intruder. Ken looked very frightened but Norma told him to explain to everyone.
Ken explained and apologised, then explained and apologised again. He was completely forgiven. Nick took Ken into the greenhouse and showed him his trees. Ken promised to give them all a special tour of Kew Gardens.
For a while everyone sat in the evening sun, finishing off the fruit salad and watching the reflections of light from the river on the greenhouse windows.
"We'd look after things you know, " said Mick, "if you ever go on holiday again. "
Norma looked across the garden at Nick, expecting him to be laughing at such a crazily impossible idea. "Maybe next year," he said.

© JSS for Learn to Love to Read March 2021